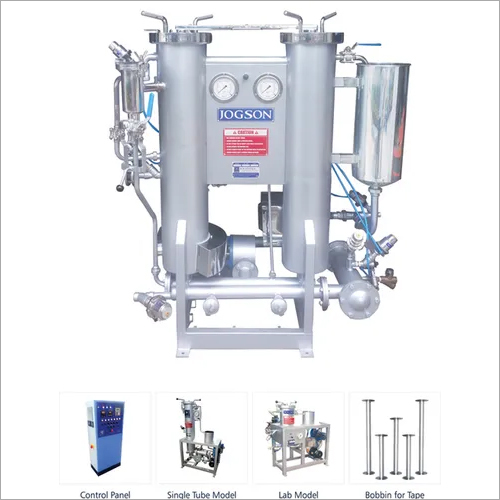 Product Specifications
50-100 Kilograms (kg)

AISI SS 316Ti/316L

220-440 Volt (v)

HTHP VERTICAL TUBULAR DYEING MACHINE

2 to 6 Kw Volt (v)
Trade Information
Telegraphic Transfer (T/T), Cheque, Cash in Advance (CID), Cash Advance (CA)

1 Unit Per Month

1 Week

All India
Product Description
The HTHP Vertical Tubular Dyeing Machines are the economical as well as eco-friendly machines, designed to run into all dye-house demands of sampling. These are often required in the dyeing industry and deliver the best solution to bring forth the needed amount of dyed yarn that consequently assists in saving high-priced materials as well as unneeded production loss. Provided with an ultra low liquor ratio, these machines make use of less water and ensure savings in heat as well as electrical energy. HTHP Vertical Tubular Dyeing Machines enable less effluent discharge and are highly applicable for dyeing industry.

Hthp Vertical Tubular Dyeing Machine
JOGSON has Developed Economical and Eco Friendly Tubular Type Dyeing Machine for capacities from 1 kg. to 40 kg. per batch. This machine is specially designed for samples and small lots to check the dyeing recipes used in production. Yarn Dyeing Industry also needed a versatile sample dyeing machine for their lab and R&D, so we developed Multi Pot sample dyeing machine to cater their need. JOGSON Multi Pot Sample Dyeing Machine is ideal to run 2, 3 or upto 6 Pots coupled to each other, dyeing yarns of same colour or running individually to dye yarn of different colour at same time. Each pot has a range from 100 gms. to 1.5 kg. per batch It is often required in the dyeing industry to get a sample approved from the customer. So HTHP Vertical Tubular Dyeing Machine & Multi Pot Sample Dyeing Machine provides the best solution to produce the required amount of coloured sample which in turn helps to save expensive materials & unnecessary production loss. The machine is suitable for dyeing of Polyester, Cotton, Viscose, Nylon, Acrylic, Texturized, Silk, Wool, etc. in various forms like Cone, Tape, Narrow Fabrics, Zipper, Hanks, Ribbons, Tops & Loose Fiber.

Features
Machine body and all parts coming into contact with the dye liquor are made of AISI SS 316Ti/316L, highly corrosion resistant
Turbo pump for liquor circulation (In-Out and Out-In) with Inverter drive for varying speed
Control panel with JOGSON dyeing programmer TPR13/PLand touch interface (Optional)
Ultra low MLR of 1:3
Air pad system to insert air manually into the machine to create static pressure and to minimize the liquor ratio
Colour addition tank with Injection Pump for dozing the dye liquor into the machine
High efficient heat exchanger which has no heat loss to the ambient
Variable loading with flexible loading spindles or capacity reducing dummies
HT Drain - the machine can be drained at 130° C
Sampling pot to check the dyeing result while machine is in operation
Pneumatically operated front door locking / unlocking
Human/Machine safety interlocks
Optional Features
Multiple fill, metered fill, ratio fill
Multiple drain
Various heating methods such as electric heaters, thermic fluid, steam & gas/diesel burner
Full capacity Stock Tank with heating & mixing stirrer and transfer pump
ph meter
Hydro extraction device
Advantages
Compact arrangement of JOGSON turbo pump, Heat exchanger and piping is the main key to floor space saving
Ultra Low MLR of 1:3, consumes less dyestuff, chemicals, steam, water & produces less effluent discharge, hence it ECO friendly & reduces the Production Cost
Inverter driven turbo pump for variable flow control; saves upto 40% power consumption hence more Energy Efficient
HT drain at 130°C for oligomers elimination during polyester dyeing process
Variable loading with dummies maintains constant MLR & flow rate
Working platform is not required as the top most tube in which the carrier is to be loaded is at the height of 1.5 mtr approx
Overhead hoist need not to be installed as the carriers are loaded from front in the machine
Excellent dyeing result and levelness, reduces yarn loss
Water level, pressure, distinctive temperature multiple safety interlock, ensures operational safety
Technical Data

Maximum design pressure 5 bar
Maximum design temperature 140°C
Heating gradient 25°C - 130°C approx at 5°C /min. (Dry Saturated steam pressure at 7 bar)
Cooling gradient 130°C - 85°C approx at 3.5°C/min. (Cold water of 25°C at 3 bar)
Technical Specification


Model

JVT

1

JVT

2

JVT

4

JVT

6

JVT

8

JVT

10

JVT

14

JVT

18

JVT

20

JVT

24

JVT

30

JVT

40

Max. Batch (kg)

1

2

4

6

8

10

14

18

20

24

30

40

Electric load(kg)

2.25

2.25

2.25

2.25

2.95

2.95

2.95

4.45

4.45

4.45

4.45

6.25
We reserve our rights to make any changes without prior notice

Batch capacity of the machine may vary according to the material i.e. Polyester, Cotton, Viscose, Silk, Tape, etc.

Electric load mentioned above is of turbo pump fitted with electric motor and dozing pump

Scope of delivery and technical specification of the product supplied shall be in accordance with the contract
JOGINDRA INDUSTRIES PVT. LTD.